Femelife Kolkata – Best IVF centre
Femelife Fertility has started its infertility clinic in Kolkata in 2013. Since then it has grown to the best IVF centre in Kolkata. IVF treatment in Kolkata was a nightmare for people struggling with infertility. IVF treatment is an option for couples struggling with infertility. ICSI is an advanced fertility treatment for male infertility. This gives best success in the hands of expert IVF doctors and embryologists. Since Femelife provides the care and success it is regarded as best fertility clinic and IVF centre in Kolkata.
Infertility appears to be a shadow in the lives of those who cherish parenthood. IVF treatment is a special technique to achieve pregnancy in those couples who cannot give birth naturally. It is one of the most popular techniques in India for achieving pregnancy through Assisted Reproductive Technique.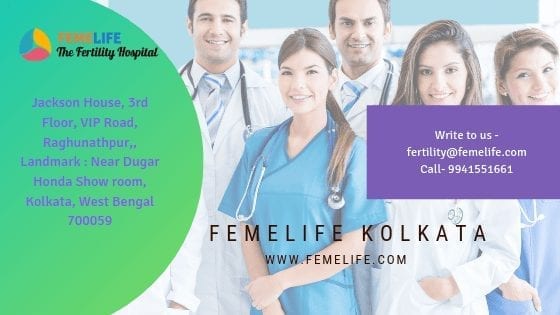 IVF treatment cost in Kolkata
Cost of IVF is variable due to the different techniques used in combination. For a simple case, it would be around Rs. 1,10,000 inclusive of medicines. But there are a lot of hidden costs. To simplify Femelife Fertility has designed its packages for IVF, ICSI and surrogacy procedures. Age is considered as one of the most important determinants of success in IVF. For the females of age less than 35, the success rate comes around 55-60%, while for the females older than 35, the success rate is usually 40-45%. The final cost depends upon various factors of the procedure. The high price tag for IVF treatment is largely due to expenditures for investigations, medications, and laboratorial equipment.
What are the financial assistance at Femelife?
Economical approaches in providing IVF treatment have been discussed and researched at Femelife Kolkata. IVF treatment in younger women with unexplained sub-fertility is not cost effective within 3 years of trying to conceive. IVF is never being performed unnecessarily at Femelife Fertility. Cost savings can be achieved by careful patient selection, thus avoiding unnecessary interventions and costs. Intrauterine insemination (IUI) is a well-established treatment and has been offered as a less-expensive alternative to IVF in assisted reproduction. Hence, Femelife Kolkata is regarded as the best IVF Clinic in Kolkata.
Alternative Treatment
IVF strategies are significantly more expensive when compared with IUI-COH, without being significantly more effective. Thus, Femelife recommend IUI-COH, as the first-line treatment in couples with unexplained or mild male subfertility. The differences in effectiveness between IVF-ET and IUI-COH are small in couple with unexplained infertility. A milder stimulation regimen with a very low rate of multiple pregnancies and OHSS, and ensuing lower costs per pregnancy is followed for needy couples.
Best IVF Clinic – Femelife Kolkata




A year ago
We had very good experience here. Doctor n all the Staff r very cooperative n friendly. They supported us throughout THE treatment.
Very happy to be here.
Successful couple from bangladesh




2 years ago
Yes there is no questions about the doctor Nabaneeta's experienced and expertise. We really lucky to got such a good human friendly doctor. The clinic in Kolkata have all necessary facilities. Some training is required to non medical team members for more focused on making relationship within patient/her family. After all it's really good in every corner.
You may take a chance if required without any hesitation….come and grab the opportunity.
Surrogacy treatment
Best IVF doctor in Kolkata
Femelife Fertility is considered as the best IVF Centre in Kolkata due to the various reasons given below –
Best IVF doctor in Kolkata – Dr Nabaneeta Padhy is considered as the best IVF doctor in Kolkata due to her knowledge and communicating skills. Academically she has strong background with many national and international publications.
Best IVF facilities – Femelife is equipped with the most advanced technology and services like PGD, IMSI, IVF, Blastocyst culture, Cryopreservation of egg, embryo and sperm in addition to IVF and ICSI procedures.
Best Support staff – All the support staff are well behaving and cooperative. They are well educated and extensively trained to handle infertile couple. They can be reached round the clock even at odd hours.
Transparency of Treatment
Ethical and transparency in treatment procedures-  All the donor and own IVF programme are discussed with the couple in detail before induction. They are explained scientifically with visual aid. Due to this transparency Femelife has been awarded the best IVF Centre.
Reasonable Cost with no hidden charges – A lot of patients visit Femelife Kolkata for the low-cost treatment cost as compared to another IVF Centre in Kolkata. Femelife Fertility has been now a hub for medical tourism attracting patients from Bangladesh, Srilanka, Nigeria, Kenya, Egypt, Oman etc.
Financial Assistance-  Free IVF treatment is offered to needy couples only at Femelife Kolkata. Patients with poor affordability are accommodated with egg sharing programme with proper consent. Financial assistance in form of easy EMI, low cost IVF and Cheaper alternatives to the expensive protocols are offered at Femelife, the best IVF Centre.
Best IVF success rates – Due to the best IVF treatment and personal care Femelife has achieved the best IVF success rates.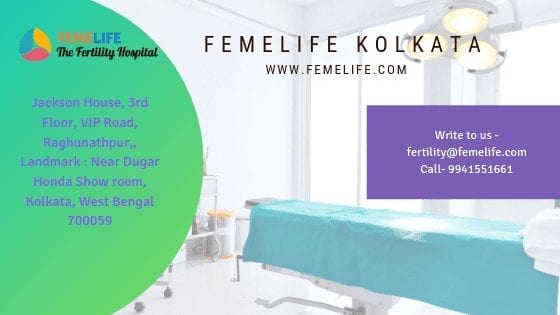 Femelife is equipped with Best Fertility Treatment Infrastructure. Hence Femelife is the best IVF Centre in India. Services provided at Femelife Fertility are IUI, IVF, ICSI,PGD, Surrogacy and Donor egg programme. Pregnancy care, and laparoscopic surgeries are also done here by best fertility specialists. We are rated as the Best IVF clinics having Fertility specialists with world class experience among all IVF hospitals in Tamil Nadu, India.
Femelife Fertility Foundation
Services provided at Femelife Fertility are IUI, IVF, ICSI,PGD, Surrogacy and Donor egg programme. Pregnancy care, and laparoscopic surgeries. At Femelife fertility enhancing surgeries like laparoscopic myomectomy are usually advised to young women with infertility before IUI or IVF treatment. These surgeries enhance the rate of spontaneous pregnancy or IUI treatment. Usually such surgeries are done by experts through laparoscope to prevent damage to pelvic organs.
Surrogacy at Femelife
Femelife offers surrogacy treatment when pregnancy is medically impossible or risky for the would be mother. Surrogacy is a legal agreement, whereby another woman not related to the child genetically carries the pregnancy and delivers for the biological parents. Receiving money for the arrangement is known as commercial surrogacy which is right now under radar in India. In some countries, surrogacy is only legal if money does not exchange hands. Surrogacy may be traditional or gestational, depending on the genetic origin of the egg.
Why Femelife is the best IVF Centre in Kolkata?
Couples rank Femelife as the best IVF centre in Kolkata in terms of financial and quality terms. Hope for success brings many couples search IVF treatment centre in Kolkata. They often look for cheap IVF treatment or low cost fertility services. Femelife ranks number one in top 10 IVF centre in Kolkata in popularity and quality services. Best IVF facilities are provided here to people who are not so affordable. People from Dhaka, Bangladesh also prefer Femelife Kolkata as the best IVF center in Bangladesh.